The Cessna 172 Skyhawk is the world's most popular training aircraft because of something called positive static stability. In essence, the aircraft will automatically return to level flight when left to its own devices. Other aircraft may be more agile, but those are nowhere near as stable as the Skyhawk. And this is the thought that popped into my head as I leaned the Super Meteor 650 into the first corner at walking speed, after being handed the keys to the current flagship Royal Enfield by Ed himself. It felt like the motorcycle had outrigger wheels attached to it, and the moment I released the pressure on the handlebar, it righted itself.
Over the next few days, I would regularly try to go as slow as possible without dropping my feet, and the Super Meteor 650 obliged swimmingly. Other than my pocket getting considerably lighter while attempting to support its appetite for fuel (for a 650cc twin, it's quite frugal though), I had a fantastic time with it. It is a big cruiser that's eminently rideable through city traffic, and on a Sunday morning outing, my wife commented that it had one of the most comfortable pillion seats she had ever ridden on. That comfy-looking seat also helped me to convince her to travel 100km for Vada-Sambar, but that's a different story.
Interestingly, the Super Meteor 650 (not this particular one) and I go back a bit. I was right in front of the Rider Mania grand stage when the covers were taken off the Super Meteor 650 for the first time. Earlier that day I got a sneak preview of the motorcycle as well (perks of the job!) and what I noticed at the time is that the Super Meteor 650 has the unmistakable proportions of a classic cruiser.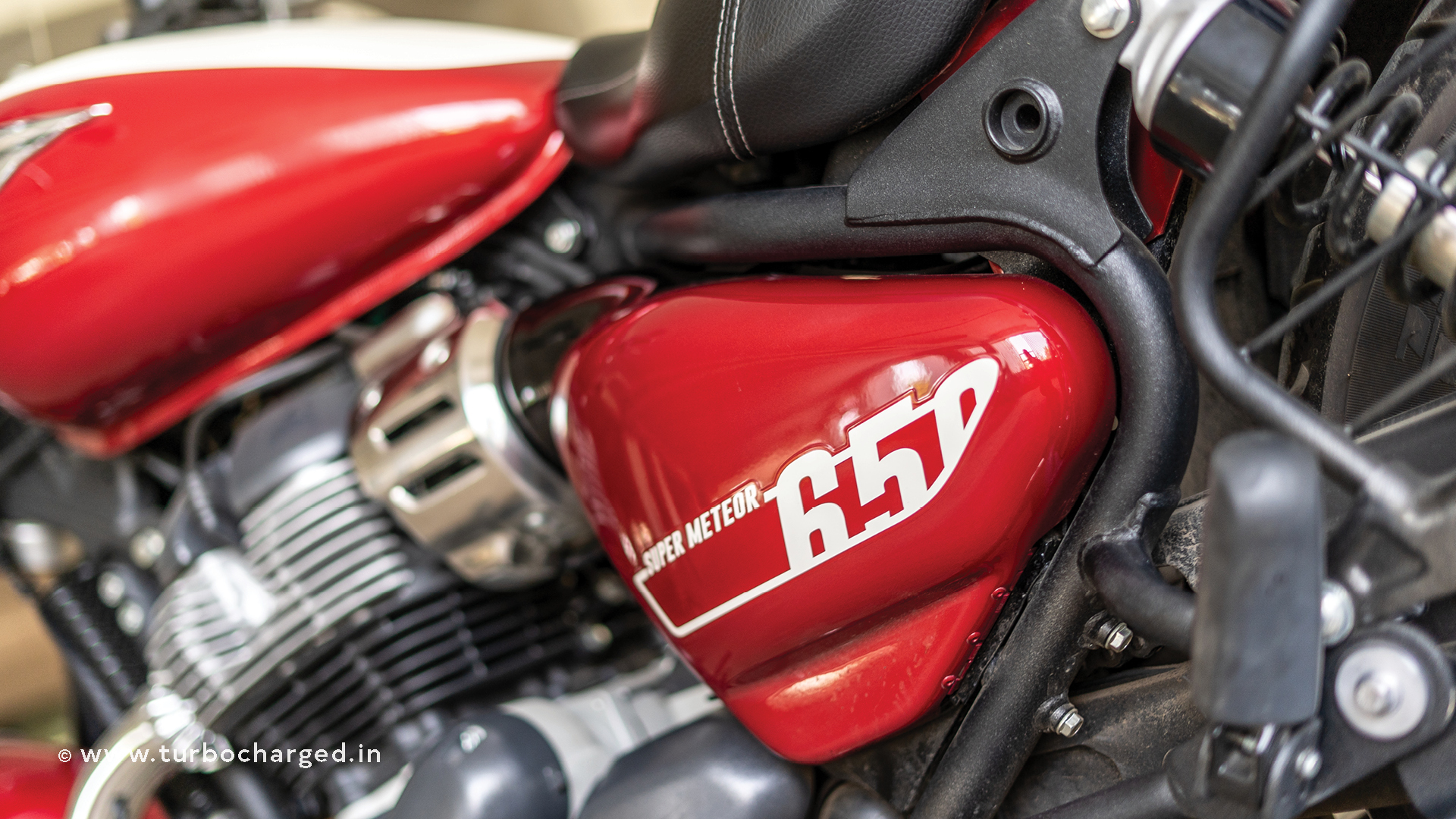 I get that the Royal Enfield Thunderbird and the Meteor 350 are regarded as cruisers, but in my opinion, their wheelbases are too short and rake too steep to be considered as cruiser motorcycles in the purest sense of the word.
However, the Super Meteor looked absolutely perfect in its proportion, with a long wheelbase, and a lazy rake, and I wished I could swap out the Scram 411 (that Royal Enfield very kindly loaned me for Rider Mania) with the Super Meteor 650, as the two-lane blacktops crisscrossing the interiors of Goa, leading to nowhere in particular, were the kind of roads I would have loved to ride with the Super Meteor at a lazy pace, just soaking in the views. While our Super Meteor is going back for now, I will wait for the chance to ride it through those B-roads of Goa someday.