Photography: Siddhant Gadekar
With EVs, manufacturers have a chance to go a different direction from the conventional vehicles we have been seeing in the past. And as is evident, homegrown startups have managed to do that pretty well. Joining the bandwagon is River, a Bengaluru based startup, with its first electric scooter, the Indie. It calls it the SUV of scooters, but to be called that, the Indie needs to fulfil many parameters, like having butch looks, decent practicality, a reasonably powerful powertrain and good ride quality. Does the River Indie manage to do that? Let's find out.
The River Indie looks quite distinct compared to other electric scooters in our market, the primary reason being its boxy proportions and wide 14-inch wheels which lends the electric scooter a butch stance. It starts at the front which gets twin LED headlamps and metal fall protectors on each side. Move on to the sides and you'll see the pannier mounts, which apart from holding a 20-litre pannier box each, add more ruggedness to the design. The rear looks simple with a large LED tail lamp taking the centre stage. So, as far as looks go, it certainly one of the highlights of River Indie.
In terms of features, you get a six-inch colour LCD that looks crisp but is not a touchscreen unit. There is no connected tech either, however there is an optional phone mount accessory on offer that allows you to mount your phone on the handle bar. Speaking of accessories, the River Indie offers a huge amount of customisation options. 
As it is, there is plenty of storage space, like the 12-litre lockable box behind the front apron which gets a USB charging port, a spacious floorboard and segment leading 43 litres of underseat storage. This can be expanded by 40 litres with aforementioned pannier boxes and not just that, you also get an option of a 25-litre top box that can be mounted on the rear grab handle. This practicality is further enhanced by smart accessory options such as a detachable floor cage for example that helps you keep your stuff in place and there's even front footpegs for you to rest your foot when there's no space on the floorboard. There's even park assist that further adds convenience. Since we were riding the initial lot of scooters, there were a few niggles in terms of the finish, but the overall quality was satisfactory.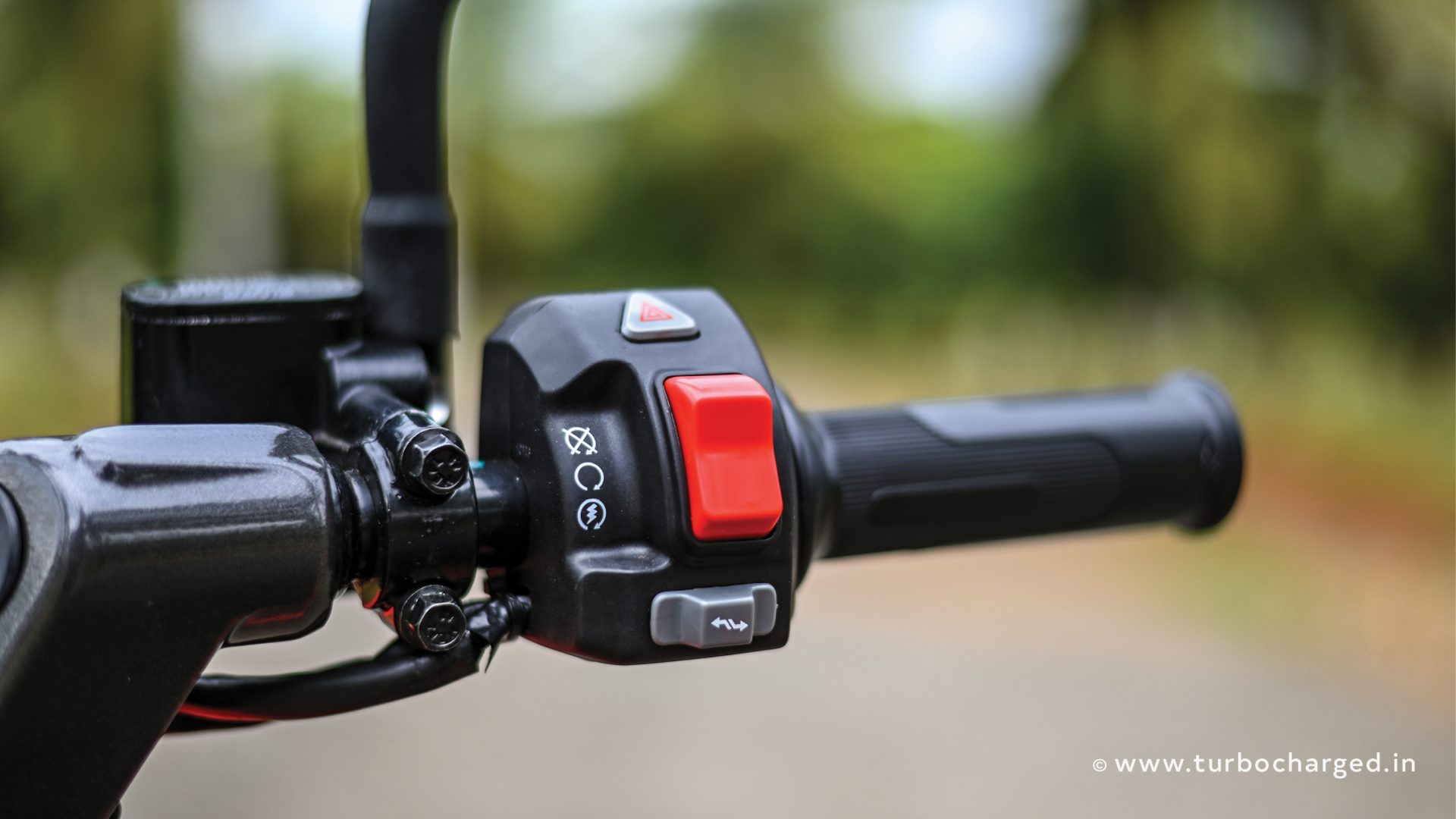 The River Indie gets a 9.1PS mid-drive motor and a 4kWh battery pack with a claimed true range of 120km on a single charge. There are three ride modes on offer – Eco, Ride and Rush with a claimed top speed of 60, 80 and 90kmph in each mode respectively. In reality though, we could only hit a speedo-indicated top speed of 84kmph in Rush mode. Acceleration is linear, but the performance tends to taper off post 60kmph, so quick overtakes require planning. We liked how the Eco mode doesn't feel as laid back as its rivals and is totally usable in the city. The Ride mode feels like the idle mode to use as it finds the right balance between Eco and Rush. The regen levels are non-adjustable but have been programmed to increase as you shift to faster modes. So, as long as you are not looking for outright performance, the River Indie is a good choice as a city hauler.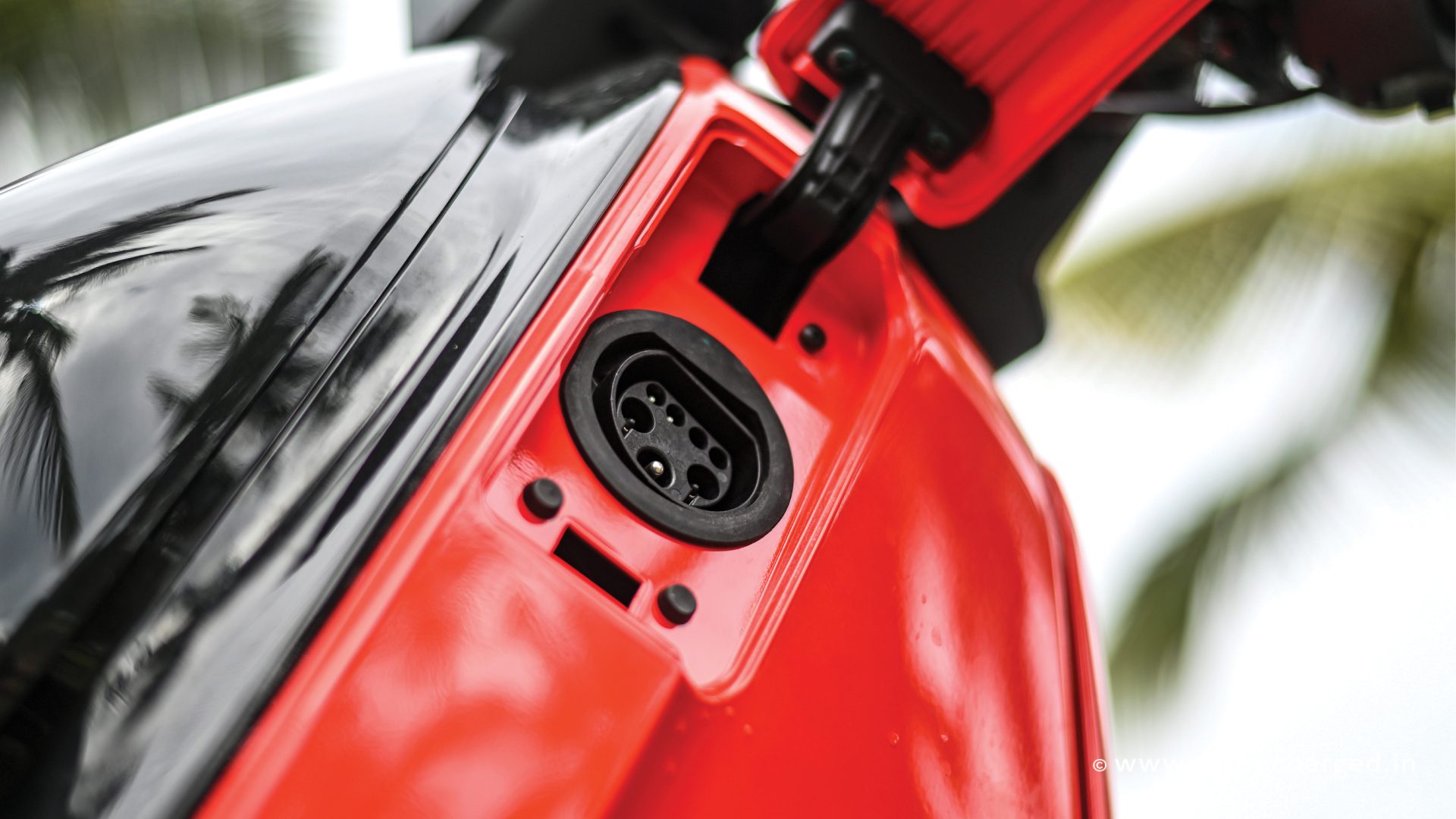 Speaking of range, we started the day with around 90 percent charge with the LCD showing a range of 108kms. After riding it for a couple of hours in and around Nandi hills, we had 40 percent charge left with around 45km of range in Eco mode. River says you can charge the Indie from 0-80 percent in five hours with a normal home charger and the scooter also supports fast charging.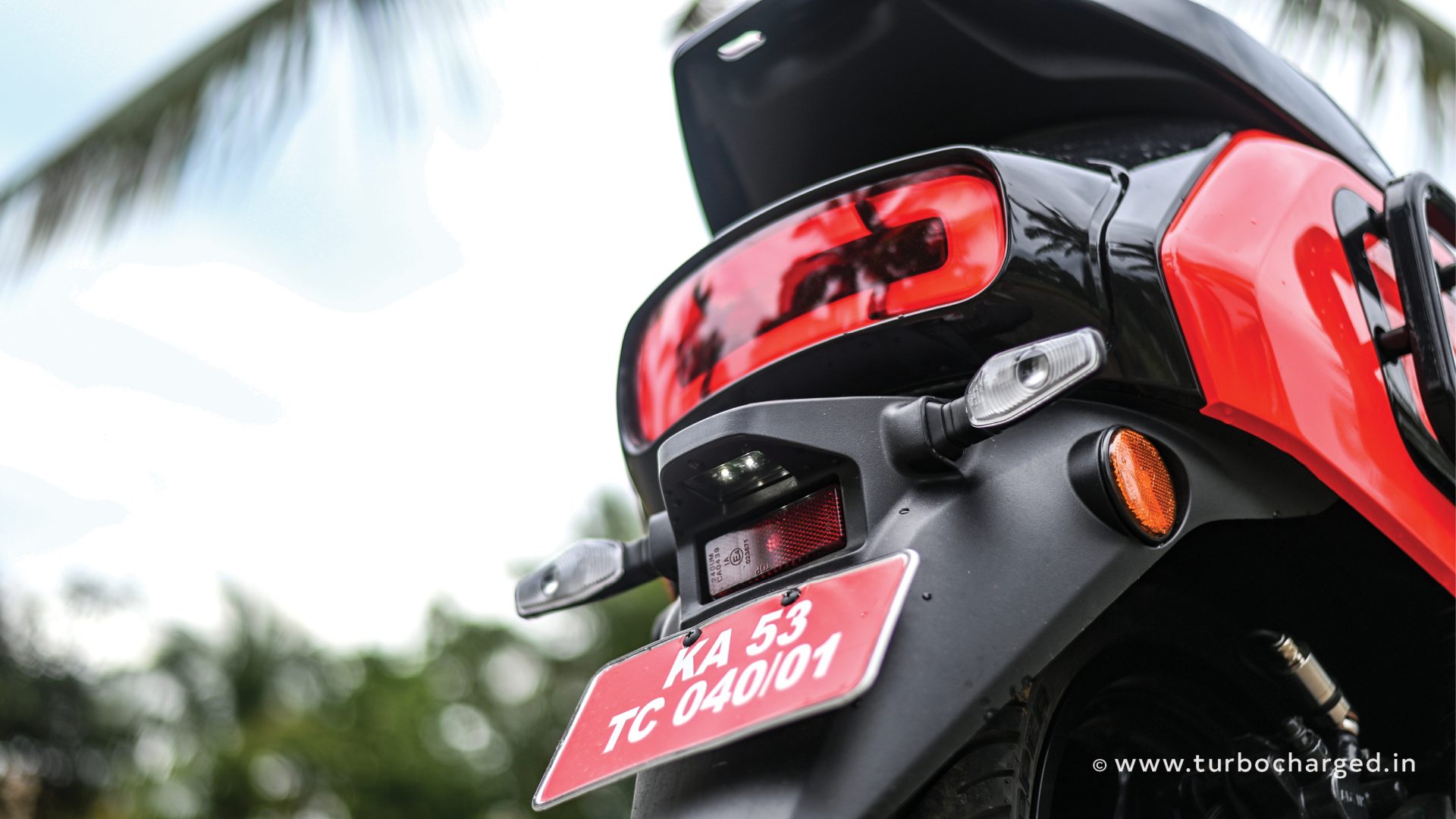 The seating comfort is another highlight on the River Indie. The seat is one of the largest we have seen on any scooter and thanks to the wide floorboard which allows you to sit in a comfortable riding posture.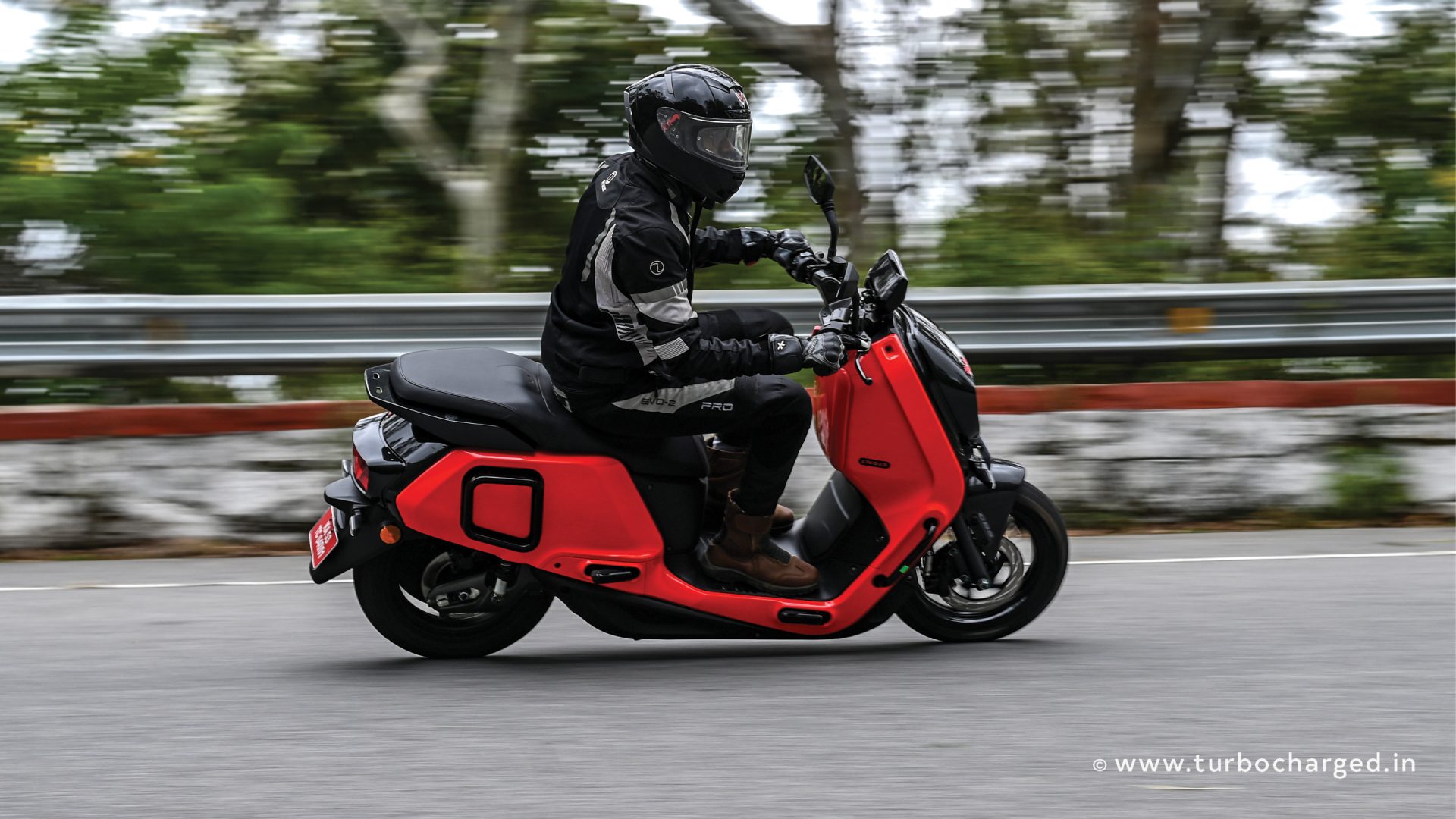 The River Indie is an eager handler, thanks to the low centre of gravity as a result of the battery pack being placed in the floorboard. In fact, it might be a little too eager for a normal user as the scooter tends to change directions with even slight inputs to the handlebar. The front telescopic forks and twin shock absorbers at the rear do a good job of absorbing bumps and the Indie remains stable at high speeds, which makes you wish there was more performance on offer. As expected, there is ample grip on offer from the 14-inch tyres and you'll have fun pushing the Indie in corners. We did take the Indie for some mild off-roading, afterall it is called the SUV of scooters! The 165mm ground clearance proved more than enough in those conditions and we didn't feel the suspension bottoming out. 
The River Indie impresses on the braking front as well. It gets disc brakes at both ends, with a combi braking system. The brakes are sharp with a strong bite and gets the 140kg scooter to a halt in no time.
The revised prices are yet to be announced for the River Indie, but we expect it to be priced around Rs 1.40 lakh, ex-showroom. The SUV angle aside, the River Indie is a valiant effort towards making an electric scooter that stands apart from the rest. It looks distinct, has enough features and offers unique customisation options. The powertrain is sufficiently powerful, and it impresses on ride and handling dynamics too. It has the capability to be a rugged workhorse and look good while doing it as well. That makes the River Indie a special scooter in our books.